OCTOBER 2014
FRANCE-AMÉRIQUE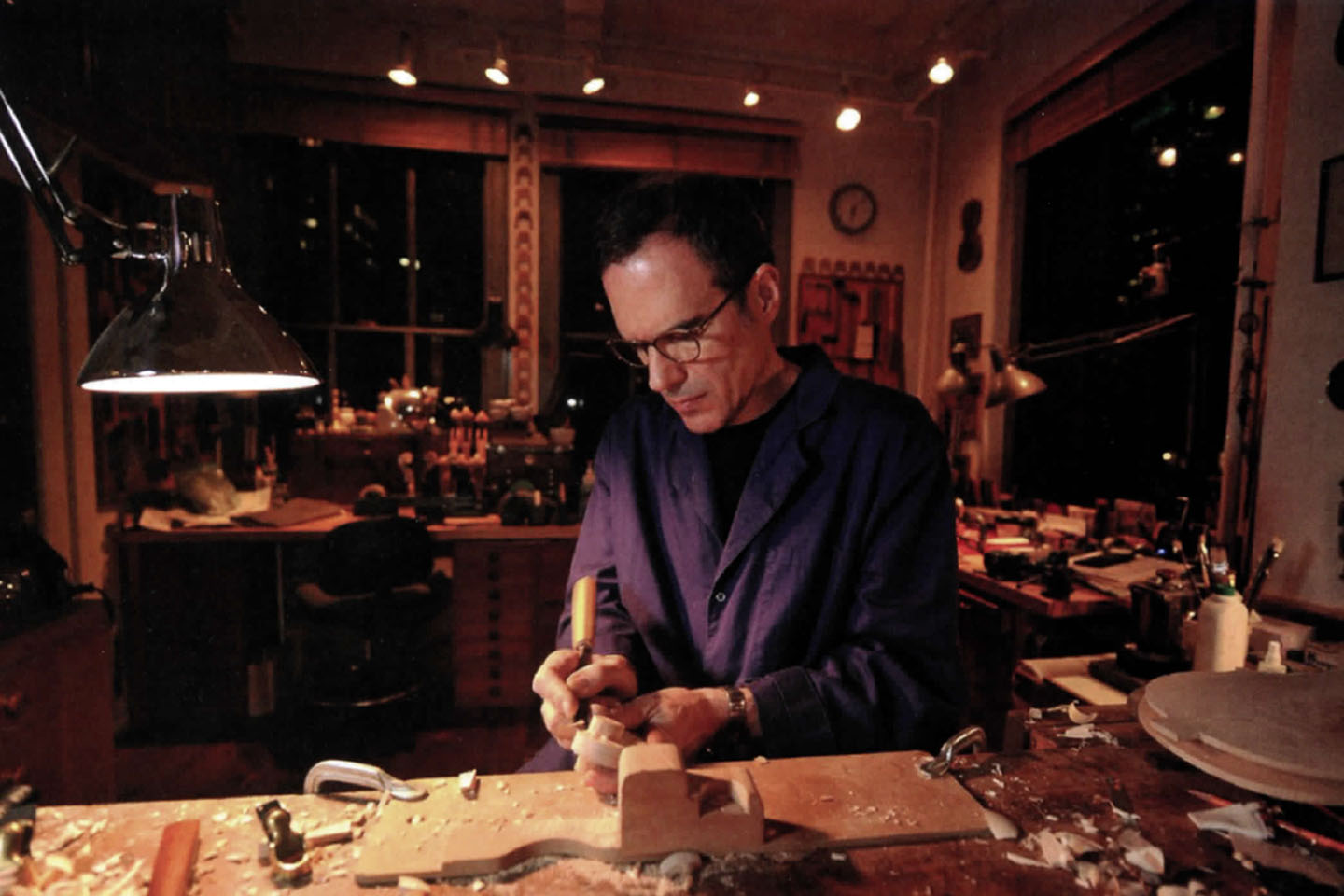 LA LUTHERIE FRANÇAISE AUX ÉTATS-UNIS
by Vincent Dozol

A GENUINE PORTRAIT OF GUY RABUT, VIOLIN MAKER
Short film by Laredo Montoneri
Published on Apr 28, 2014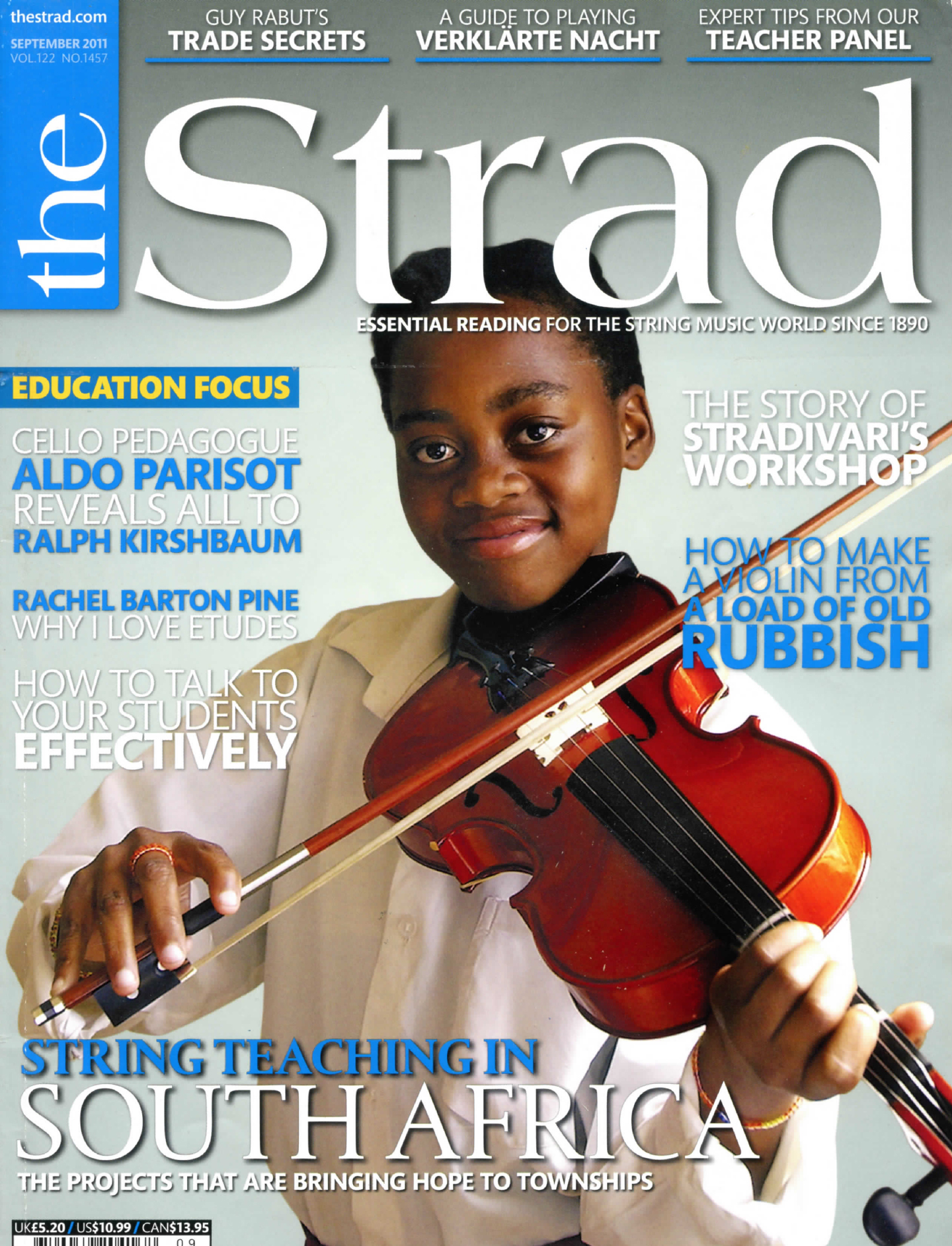 HOW TO MAKE A UNIVERSAL CAM-ACTION WORK CRADLE
by Guy Rabut

D'ADDARIO ORCHESTRAL
YouTube Series of instructional videos
August, 2009

November 2008
NEW YORK TIMES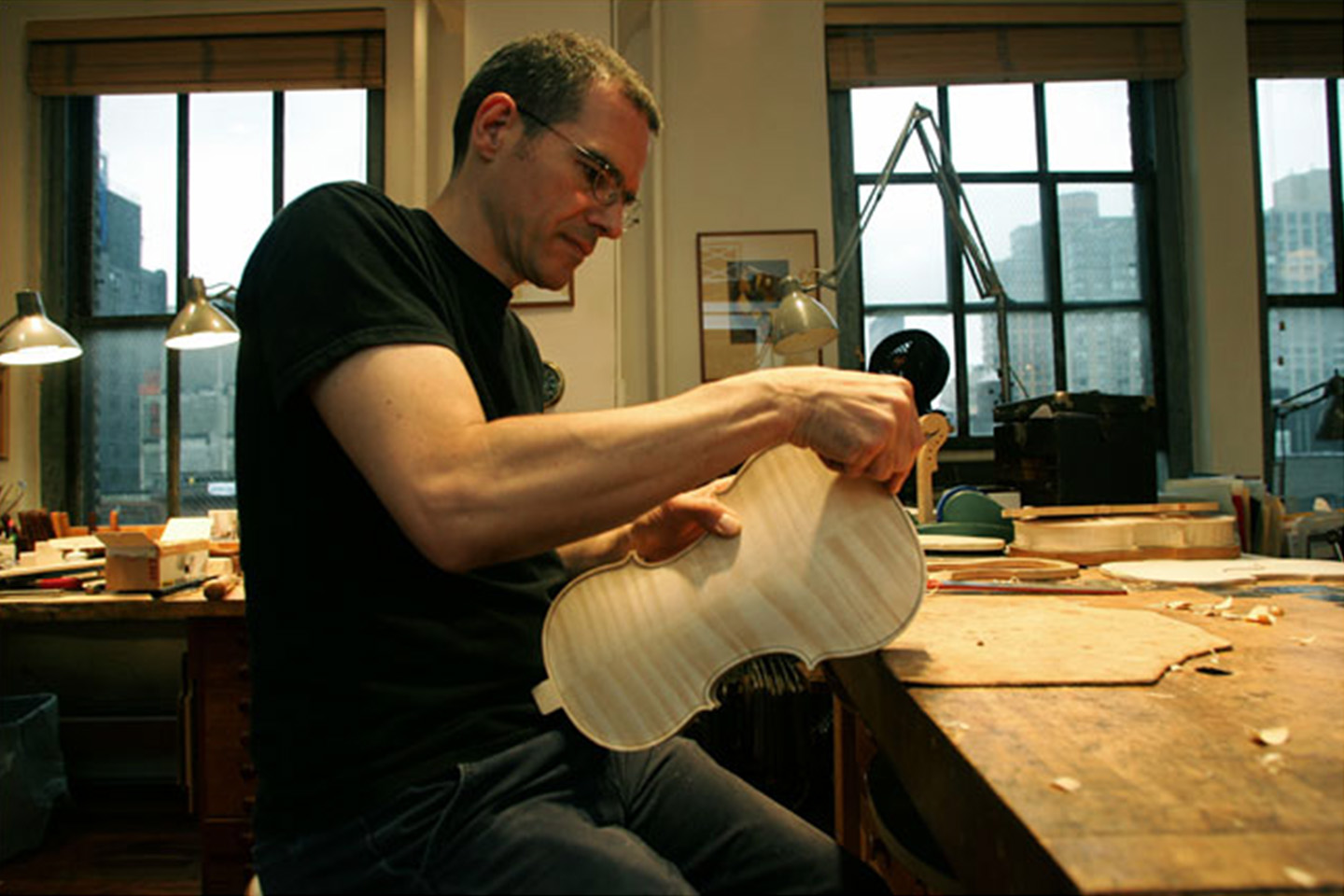 TOOLS AND TECHNIQUES ARE CIRCA 1700, BUT THE VIOLINS ARE NEW
by Vincent M. Mallozzi
The sign on the door says simply, "Guy Rabut, Violin Maker."
Behind the door, a 17th-century craftsman in 21st-century clothing spends his days in the company of knives, scrapers, chisels, sanders, handsaws, glues, varnishes and other materials needed to create violins, violas and cellos.
"These are my assistants," Mr. Rabut said, speaking of the tools of a trade that first took center stage in the late 1600s, when Antonio Stradivari began making stringed instruments; he later emerged as the world's most famous at the craft, the Picasso or Rembrandt of violin makers. Stradivari did his best work between 1700 and 1720; the violins he produced then earned a reputation for superior beauty and sound. [...]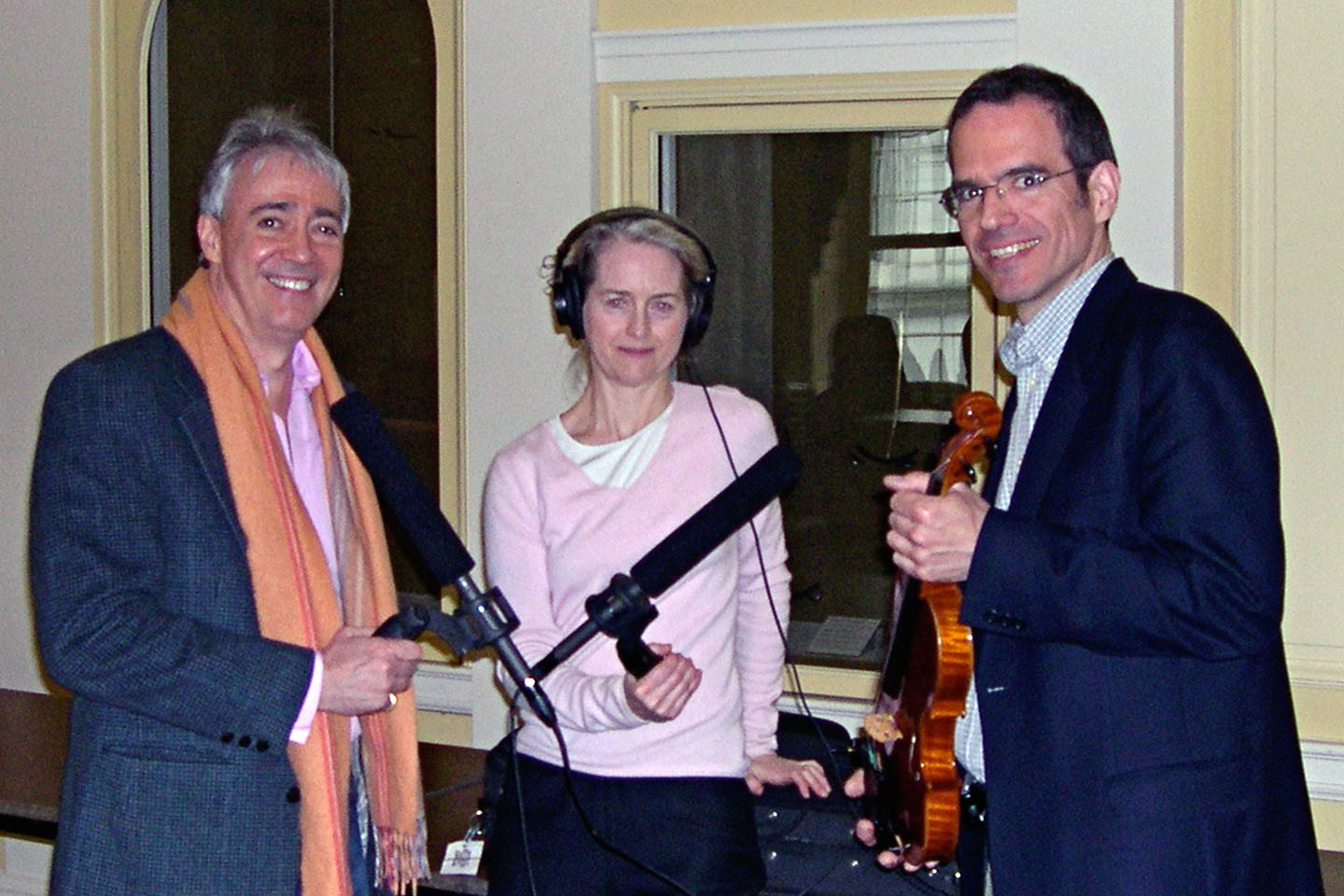 AMERICA'S HISTORY OF VIOLINS
with Scott Simon
The violin takes center stage in an exhibit at the Library of Congress. The instrument's popularity has cut across economic, racial and regional lines and helped drive new forms of American music, from blues and jazz to bluegrass and swing.
April 2002
STRINGS MAGAZINE
NEW CHIPS OFF THE OLD BLOCK
LUTHIERS CARVE THE FUTURE OF ACOUSTIC BOWED INSTRUMENTS
Paul Kotapish
In an episode of the futuristic TV series Star Trek, a hyper-human android once conjured a Stradivari copy from the starship's replicator. The Strad was perfectly rendered down to the last ding, and the sound was extraordinary, suffering only from the android's mechanical expression.

This fictional conceit that a Stradivari will trek through time as the perfect violin may be prophetic. The great Cremona workshops that codified the violin family also produced fine mandolins and guitars that have evolved over the years into many diverse and equally acceptable forms. Not so the
violin. "Those Strads and Guarneris and Amatis that were made 400 years ago are very beautiful, elegant, and perfect, really, in terms of their abilities to produce wonderful sound," says Oregon luthier David Gusset. "I'm happy to make something that can even approach that."

Gusset's reverence for the classic form, materials, and craftsmanship is prevalent throughout the violin trade. But there are mavericks in the ranks.

FORM FOLLOWS FUNDING

New York luthier Guy Rabut has created an innovative modern violin by melding a dramatic contemporary look with a Guarneri sound chamber and traditional materials and assembly. The playful abstract design was an aesthetic success and its sound applauded by musicians of all stripes, but it remains the sole prototype for the quartet of instruments Rabut hopes to build. The problem is money. "That project took me three times as much time as a conventional instrument in terms of planning, design, and building prototypes, and that was a very nice investment to make," says Rabut, "but I still own the violin."

Musicians daring enough to embrace Rabut's creation can't swing the investment, and he can't afford to do it on his own. The problem, as he sees it, is one of attitude. "People are used to
saying, ʻfine old instruments.' They need to learn to say, ʻfine new instruments.'"

Rabut is hopeful that some patron will underwrite further production.

Such contemporary makers as Christophe Landon, Roger Lanne, Suzi Norris, and others have also built instruments that buck the Cremona imperative. Despite a lot of enthusiasm for these attempts, most makers still adhere to the traditional forms, and many fi nd antiqued creations sell best. "There is a growing trend of interest toward instruments that look new," says Rabut, "but it is certainly the exception. People fi nd new instruments that look old much more accessible. If someone has a violin that looks like Heifetz's instrument, they somehow feel connected to Heifetz."

NOVEMBER 2000
NPR RADIO
STUDIO 360
SOUND PORTRAIT: GUY RABUT
Master craftsman Guy Rabut uses centuries old tools to create modern musical instruments.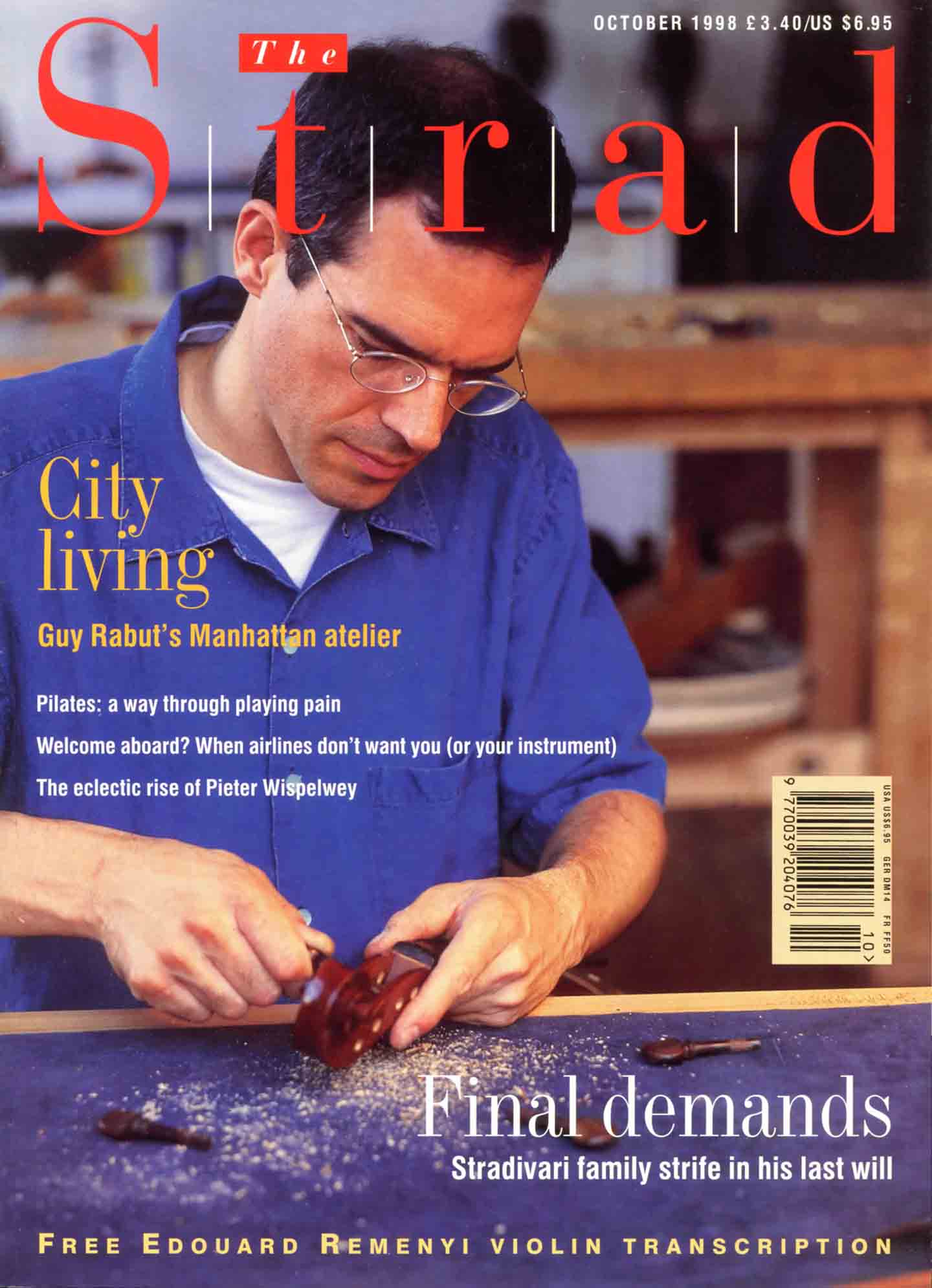 http://www.thestrad.com
URBAN SPACE
LUTHIER RABUT'S AIRY MANHATTAN ATELIER GIVES HIM ROOM TO THINK AND CREATE.
LAURINEL OWEN PAYS HIM A VISIT.
Walk from the dark corridor into the Manhattan workshop of luthier Guy Rabut and you are immediately struck by light - then the view. To the left is the Empire State Building with the Art Deco roof of the Chrysler building peeking out from behind. To the right is a bit of the Flatiron building, while due east the golden roof of Met Life shines brilliantly. From the 15th floor, West 28th Street looks like a tropical jungle, flower vendors lining the street and nude sunbathers casually lying across on the next roof. [...]
Winter 1997
AMERICAN LUTHERIE
NUMBER 52

http://www.luth.org

SCROLL CARVING
by Guy Rabut from his 1995 GAL Convention workshop

Most of the scrolls that I carve are based on historical models. The one I am carving today is based on a scroll from a golden-period Stradivari, 1714-1715. I had the opportunity to examine this instrument, so the outline of the scroll and pegbox was developed from a tracking of the original scroll. I took all of the crucial measurements with a caliper at that time as well. [...]
November 8, 1997
NEW DESIGNS AND MODERN VIOLINS
http://www.vsaweb.org
JOURNAL OF THE VIOLIN SOCIETY OF AMERICA, VOLUME XVI, NO. 2
PROCEEDINGS OF THE 25TH ANNUAL NATIONAL CONVENTION

Albert Mell: From early childhood Guy Rabut has been very much involved with art and drawing, and this interest has been maintained throughout his career. After working in the Français shop under René Morel for a number of years, Guy opened his own shop on 28th Street in Manhattan, where he is concerned primarily with making new instruments. If you are in New York I'm sure he would be glad to see you. Since 1995 Guy has been working on what seems to be a new face of the violin. These are violins which are built acoustically according to traditional methods, but incorporate new design ideas to create an aesthetic interest. I give you Guy Rabut.
Guy Rabut: Good afternoon. I would like to thank Phil Kass and the VSA for inviting me to speak today. I attended my first VSA meeting in 1980 when it was at Hofstra University. I have been to several since, and have always enjoyed myself and learned a great deal.
For several years I have been pursuing traditional violin making. But always in the back of my mind I wanted to expand the aesthetic envelope [...]

July/August 1996
STRINGS MAGAZINE
http://www.stringsmagazine.com

SHATTERING THE MOLD
MODERN MAKERS REVOLUTIONIZE THE VIOLIN
Darol Anger
Of the myriad tools that humans have invented to extend their creative reach, few have attained the level of perfection that renders change unnecessary, especially over the course of 200 years. Though we think of the violin as a rarity that has achieved this ideal, closer examination tells us that even our beloved box is not exempt from change; after all, necks have been lengthened and tilted back, bass bars have been extended, bridges raised. These, however are subtle functional differences that have nevertheless left the overall look and feel unchanged, leading to a general perception of the various violin family members as unimprovable objects. [...]